"Prague; the city so beautiful that it was saved by Hitler… or so the story goes. Prague is a living and breathing enigma; old and dirty but somehow unimaginably graceful."
World of Wanderlust
Grébovka (Havlíček´s gardens)
The park is inspired by the Italian Renaissance with many sculptures and pavilions. You can visit the artificial grotto cave with the fountain in the gardens . In the other part there is a waterfall with an artificial pond, where the grass snake (užovka obojková) lives.
"Prague never lets you go… this dear little mother has sharp claws."
Franz Kafka
Vojan´s gardens
They are located in the very centre of  historical Prague (U Lužického semináře 43/17, Prague 1) and they are the smallest and at the same oldest Prague´s gardens. The gardens are the most beautiful in the late spring . Besides the fruit trees you will also find magnolias, rhododendrons and modified flower beds with a current offer of flowers. In addition to beautiful trees, these gardens are especially interesting by peacocks which move freely around the gardens.
Petřín gardens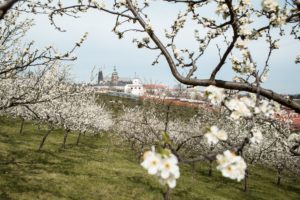 Petřín Hill is one of the largest parks in Prague. Petřín is an oasis of peace and quiet in the city center of with the best views. There is the Rose Garden, a lookout tower and a mirror maze at the top of Petřín Hill. The Seminary Garden has more than 2,100 fruit trees. We are delighted to introduce this place to you during our truffle hunting tour.